Career Spotlight: PhD student Osian Wolley
Published: 27 August 2021
The team at QuantIC caught up with postdoctoral student, Osian Wolley, who relocated last year from Bristol to Glasgow to conduct his PhD. We wanted to know more about his PhD journey so far, his opportunity to be one of the first people in the world to test out a new Hamamatsu demo camera, and the challenges he has faced during the COVID pandemic being a student.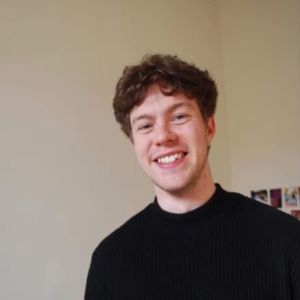 At the moment you are undertaking your PhD at the University of Glasgow, what are you working on and what is a typical day like for you?
Since joining in October, my work has been focused on 'Quantum Illumination' type experiments where we image an object illuminated by photon pairs created by a parametric down-conversion source. These photon pairs are quantum correlated in their position meaning they can be preferentially selected over random noise events and background light. This is useful in low illumination imaging applications where noise events dominate an image, and the aim is that this could be used in a microscopy application.
We had the opportunity to test this type of experiment with a new demo camera from Hamamatsu Photonics which is capable of resolving individual photon numbers. This was a big leap in camera technology and it was very exciting to be involved in the project.
More recently, I've been working on a completely different imaging experiment which isn't even quantum showing the range of work and opportunities to work on different projects within a PhD. This experiment is based on improving imaging in low light settings by using a homodyne (interference) based set-up.
In terms of a typical day - no day is the same! Experimental work tends to throw up a different challenge every day, whether this trying to get your camera to interface with the program you have written, trying to perfectly align your setup or build something in the workshop. It is usually quite hands on though and I spend a lot of time in the lab when possible.
Tell us what attracted you to work within quantum imaging?
I was attracted to quantum imaging through the work I did in Bristol during my masters. I was always especially interested in quantum technologies, such as computing and metrology. A research project I completed based on quantum metrology with Dr. Jonathan Matthews convinced me that I wanted to do a PhD in quantum technologies. As quantum imaging is closely linked to quantum metrology the PhD project here at Glasgow with Professor Miles Padgett seemed like a great opportunity!
Can you tell me a bit more about your experience of applying for your studentship?
My experience of applying to the studentship was very smooth. I applied in September for an October start. After an informal interview with Miles and submitting an application to the University I was soon looking for somewhere to move to in Glasgow!
What challenges to your research (if any) have you experienced during the COVID pandemic, how have you adapted, and has anything positive come out of working from home?
I feel like I've been lucky in that COVID hasn't hugely affected my work. Of course there were some restrictions on lab time due to occupancy levels which has meant progress has maybe been somewhat slower than it would have otherwise been, and I've also missed out on the collaborative side of research that would be natural for a full lab.
I think having the lab being busy and having colleagues around again is what I'm looking forward to the most. In terms of homeworking, it can work well in tandem with the lab. For example, something can not be working in the lab and having to do some working from home makes you stop and properly think about the problem and perhaps write a simulation in order for you to solve it instead of banging your head against a wall in the lab for a couple of days.
What's next? Can you tell us a bit more about the career paths you are considering after your PhD?
I don't have a definite plan yet. I think I'm pretty split between staying in academia or going into industry. I think both have their pros and cons, and I'm hoping I can learn more about both over the course of the PhD.
Do you have any advice for someone who might be considering a studentship in quantum imaging or quantum technologies?
In terms of advice, I would mainly say choose a project you are interested in. You will be working on it every day and there will be difficult times where you will need your enthusiasm to get through challenges. This is particularly true of experimental work - quantum optics experiments are notoriously fiddly to set up. Also don't worry if there's a project which you're interested in but you feel you don't have the necessary skills i.e an experimental project coming from a theory background. You will bring different skills to an experiment that will be useful and the rest you will pick up. A big part of doing a PhD is still learning from what I've experienced so far.
---
First published: 27 August 2021