Career Spotlight: Matt Edgar MSquared Lasers
Published: 27 July 2021
Dr Matt Edgar left the QuantIC team in 2018 to join one of the UK's most innovative, disruptive technology businesses - M Squared Lasers as a Product Owner. We caught up with Matt to find out more about his career path, his role at M Squared, and the advice he would give to those wishing to start a career in quantum technology.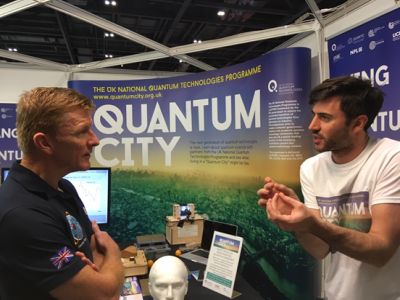 Matt studied at the University of Glasgow from 2007 to 2011, completing a BSc. in Physics and Astronomy and a PhD in Astrophysics. He then went on to study within the Institute for Gravitational Research, before joining the Optics Group and the UK Hub for Quantum Enhanced Imaging (QuantIC) as a post-doctoral researcher for 7 years.
• You are currently working for M Squared as a Product Owner – can you tell us more about your role and what you enjoy the most about it?
As a product owner at M Squared, I am responsible for ensuring the right product is built for the customer application. This means interacting with both the customer and the business stakeholders, providing specialist knowledge of our technologies, understanding the critical requirements for the customer application, articulating the customer needs to the team, and managing product development from concept to completion. There is huge satisfaction among the entire team once a complex project is finally competed, knowing that it will help our customer application push the boundaries of science and engineering.

• What does a typical day in the office look like for you?
Each day is unique and requires a slightly different set of skills but on a typical day I will have several team meetings to discuss the progress of ongoing projects, analyse new data with specialist laser engineers, write progress reports for business stakeholders, produce new materials for customers, host teleconferences with new and existing customers, plan the next phases of development and remotely operate lasers systems across the world.

• What has been your greatest career achievement/experience to-date with M Squared?
M Squared Laser were selected to deliver the calibration sources for the European Space Agency's Sentinel 5 satellite mission which will soon monitor trace gas concentrations and aerosols in the atmosphere and provide mankind's best climate science data. As product owner for this project, I led the team that designed, manufactured, tested, and commissioned three of the world's most advanced laser systems ever built. This achievement was the result of years of hard work and late nights from an incredible team and has given me a huge amount of confidence in my role at M Squared.

• How has COVID-19 affected your role over the last 18 months?

We already used a suite of management tools and company networking resources to do our jobs and it was actually very easy to perform my role to the same capacity almost entirely from home. If anything, it became easier as I was no longer walking around to find people but could speak with them instantly because everyone was online. The biggest challenge was working from home while home-schooling with our three kids and no family support. We have now moved back to Fife where our parents live and can provide childcare, and this has completely transformed my work/life balance compared to 12 months ago.

• Before moving to M Squared you were a Post-doctoral Researcher at the University of Glasgow with QuantIC. What is your best memory of working with the QuantIC team and how did your experience at QuantIC prepare you for working within industry?
I loved working in the Optics Group and with QuantIC and have too many good memories to pick only one. My research involved building unusual infrared cameras that could see through stuff or reveal invisible gases and 3D cameras that can map surfaces with millimetre accuracy at long range. These cameras and their impressive images allowed me to travel to showcase events and science festivals around the world and entertain large audiences of scientists, industry leaders, politicians, children and even astronaut Tim Peake. I feel very privileged to have had this experience. Being able to communicate effectively and connect with people from a range of backgrounds has certainly helped me in my current role. Most importantly, the research culture instilled an ability to work long hours on complex problems to get results - which is just as valuable in industry as it is in academia if you want to advance your career.

• What inspired you to get into the world of quantum physics?
The positive energy from Miles Padgett and the entire Optics Group. I did an undergraduate project in the Optics group on the orbital angular momentum of sound and before I knew it, I was working in the lab on the weekends, consumed by it. After completing my PhD in Astrophysics I had actually accepted a job at Dyson Research Labs but changed my mind and accepted a postdoc position with Miles to work in experimental quantum optics. Hard work and late nights in the lab with Miles and exceptionally smart colleagues resulted in a high-profile publication and this is how it continued for seven years!

• What advice would you give someone aspiring to work or study within the quantum technology sector?
If this is something that interests you, go for it. Your timing is perfect. There is an abundance of opportunities emerging right now for you. All the biggest technology companies are investing heavily into quantum technologies. All major countries are getting government backed funding into this emerging sector. The stage is set for a major breakthrough across a range of quantum applications, and it will likely be the most disruptive technology to emerge in our lifetime. It is hard to know what new quantum industries will exist in the future but they will depend on highly skilled scientists and engineers like you. On top of this, the skill set you acquire in the process will open a multitude of other career paths, so there is really nothing to lose. What are you waiting for?
---
First published: 27 July 2021